Muscle Activation Techniques (M.A.T.)
Pinpoint Weakness and Improve!
Muscle Activation Techniques (MAT) is a systematic approach to evaluate and correct muscle imbalances that contribute to injuries, prevent recovery and decrease performance. Let's get you on the path to rebuild and recover!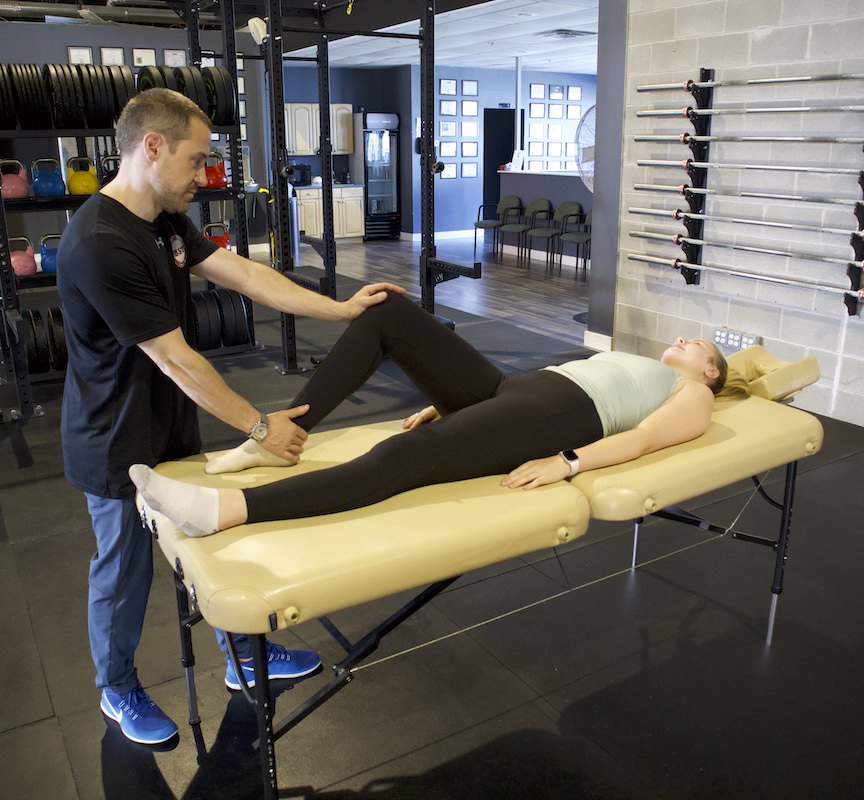 Getting to Know Your Muscles
Muscle Activation Technique requires a thorough examination of your muscle and skeletal structure.
We will perform a wide range of exams and tests (Don't worry, this is non invasive, and really just means we'll ask you to repeat a series of movements, and see how you do).
The purpose and function of each muscle group test is to help determine where you have imbalances, tightness and weakness.
After all, M.A.T. is based on the "Roskopf Principle" which states that flexibility is a derivative of strength and therefore muscle tightness is secondary to muscle weakness.
Based on our assessment of your mobility, we create a program in order to correct these muscle imbalances by strengthening the weaker muscles!
I have an autoimmune disease that affects both my muscles and skeletal system. For anyone in a similar boat, I would not hesitate to recommend this facility. They provide a wide variety of equipment for all levels and approaches including MAT. I personally had to start at square one. With Eric's help and his crazy ability to customize exercises, he was able to put me back together again. Due to extensive hip damage I was unable to walk and now I can. I also can exercise on my own again without injuring myself because Eric has strategically designed exercises that are customized towards me. This is important to me because I had many past experiences with trainers and physios giving me the same standard approach which does NOT work especially for individuals dealing with autoimmunity. The staff is very understanding and non-judgmental. I feel very comfortable going to their facility. Highly recommended!
Raquel G.
Newmarket, Ontario
How Can Muscle Activation Technique Help You?
There are a number of benefits to muscle activation technique (M.A.T.). Find out why MAT isn't just for professional athletes, it can be for anyone looking to find balance in their movement, or correct a known deficiency.
Working with YOUR Body:
As opposed to other forms of muscle stimulation like heat-exposure, foam rolling, or resistance bands, MAT uses your own body as the guideline for muscle contraction and threshold tolerance.
Narrowing Down on Root Causes
Finding where you are not moving properly can eliminate issues you may not even realize were connected. For example, certain types of low back pain can be traced back to weak ankles. It just goes to show you that treating the symptom doesn't always treat the cause! We strive to find the root causes of your issues so that we can solve the problem, not just hide it!
Injury Recovery & Repair
Muscle Activation Technique can be used as part of injury rehabilitation. If you've been involved in an accident and are suffering from chronic pain, MAT can help to identify and resolve the pain. You don't have to live with constant pain, simply talk to Blood Sweat Train about muscle activation technique today!
---
With the help of BST, and out M.A.T. trained specialists, you can kickstart the process of recovery or improvement immediately.
Get to know the Blood Sweat Train team:
Recover. Rebuild. Improve.
Muscle Activation Technique at Blood Sweat Train in Newmarket, Ontario.
Where education, relationships, and results continue to drive us forward!
TRAINING. WEIGHT LOSS. NUTRITION.
Get started with Blood Sweat Train and join us for a free consultation!